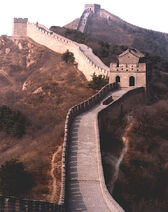 Josh and team go ghost hunting along a portion of the Great Wall of China near Beijing and the evidence is reviewed by Jason and Grant from Ghost Hunters. Next, he and his team go looking for mermaids off the coast of Kiryat Yam, Israel, which offers a $1,000,000 reward for proof of the creature .
The Great Wall
[
]
The Great Wall of China. Legend says it's one of the few man-made structures visible from space. Stretching for 4,000 miles across the north of China, it's estimated that more than a million soldiers died building and defending the wall. Fifty miles north of Beijing lies "The Wild Wall," a portion of the Wall that has more than a few dark corners. Locals report strange apparitions as well as the sounds of marching footsteps on the wind.
The Israeli Mermaid
[
]
In Kiryat Yam, Israel, there is a very large check for a million dollars waiting for photographic proof, proof of a mermaid. Dozens of locals have reported something that scared them at close range. A creature with a body covered in scales, the lower half ending in a fluked tail that splashed in the waves at sunset. The accounts detail a humanoid torso, with limbs and webbed appendages. The creature has an anthropomorphic face, wide-set eyes, and razor sharp teeth. Even though sightings of a humanoid sea creature date back 3,000 years, Greek Sirens these creatures are most certainly not.